Children's Ministry
He took a little child and had him stand among them. Taking him in his arms, he said to them, "Whoever welcomes one of these little children in my name welcomes me and whoever welcomes me does not welcome me but the one who sent me." Mark 9:37
Philosophy
As Members of the United Methodist Church, we uphold the rights of children and acknowledge that children are a sacred gift from God. In proclaiming that sacredness, we in the Church carry a commitment to enable all children to experience the fullness of life as Jesus proclaimed.

Children's Ministry Mission Statement
At Lexington United Methodist Church (LUMC) we promise to surround these children with a community of love and forgiveness, that they may grow in their service to others. Our intention is to minister to the needs of all children and provide them with a caring community where all may be nurtured in a dignified and loving manner.
Sunday School
Children 3k (toilet proficient) through 5th grade are invited to Sunday School at 10:00. A one room format is in use for all children's classes. Sunday School meets in the Rainbow Room in the Rhoten Building (children's wing).
Masks are required for children and volunteers in LUMC Children's Ministry through December 31, 2021.  Beginning January 1, 2022, the children's mask policy will reflect that of the whole congregation, which is "recommended." This approach allows time for those who choose to vaccinate to have the opportunity to do so, while protecting the children of LUMC to the best of our abilities.
Cokesbury's Celebrate Wonder curriculum is used for Children's Sunday School.
Children's Moments
During both of the 11:00 AM worship services, a Children's Moments lesson is offered. Children leave the worship service for the lesson in the Rainbow Room, and are returned to the service at noon.
Wednesday Evening Fellowship
Families of all types, shapes and sizes are invited from 6:15 – 7:15 pm on the 1st and 3rd Wednesdays of the month to participate in an Interactive Family Worship Experience in Wesley Hall. All ages have the opportunity to share in a Bible lesson, games, and more.
Kidsway is for children ages 3 (toilet proficient) through 3rd grade. It is an interactive, exciting, and informative place for them to learn about God's word through a variety of activities. Contact Heather with any questions about Kidsway.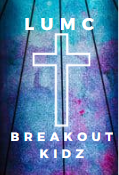 BREAKOUT KIDZ (4th and 5th Grade)
BREAKOUT is "youth group lite" for 4th and 5th grade students. BREAKOUT is a time of preparation for transition into youth programs. While they are still a part of the children's program at LUMC, the students break out into their own group meetings, events, missions and outreach projects. Contact Heather with any questions.